Almost a month in 2020, how's your "read more" resolution going?
February is just around the corner, and as such, many of us have already abandoned New Year's resolutions weeks ago. But for those of us who reliably placed "read more in 2020" on our list of resolutions, I have a tip that's made it a little more fun for me.
At the outset, let me say that this advice only applies to the truest sense of "read more" resolutions, meaning it's a way of helping you read more magazine articles, newspaper articles, online publications, etc. It's not a fix for reading more books. Now that we've gotten that out of the way…
It's commonly accepted that being able to visualize progress toward a goal is helpful motivation. This technological hack is a way to make sure you get that visualization bump to make your reading feel a little more rewarding hopefully. By using a few different apps, you can get any article that you read to automatically populate in your Google calendar, which is a lot of fun when you look back after a day or week in which you read a lot.
What you'll need:
What to do:
Set up a Google calendar to hold all your readings. If you don't want your primary calendar cluttered, you can create a new one simply for this purpose and name it "Readings"

Set up a Pocket account.

Pocket is a read-later app, where you can simply add articles from any website with the click of a button, and Pocket holds on to them until you're ready to read them.

Once you have the account set up, you can download the app for your phone and your computer, and install a toolbar shortcut on your computer's web browser.

Set up IFTTT account.

IFTTT is an service that automates basic operations in your digital life. A simple example: You can set up an IFTTT that will send you an email when the weather forecast says it will rain tomorrow. Or you can set up at IFTTT (the operations are called "applets") that takes any song you like on Youtube and automatically adds it to your Spotify playlist.

Install this applet: AUTOMATICALLY LOG WHAT YOU READ IN POCKET TO YOUR GOOGLE CALENDAR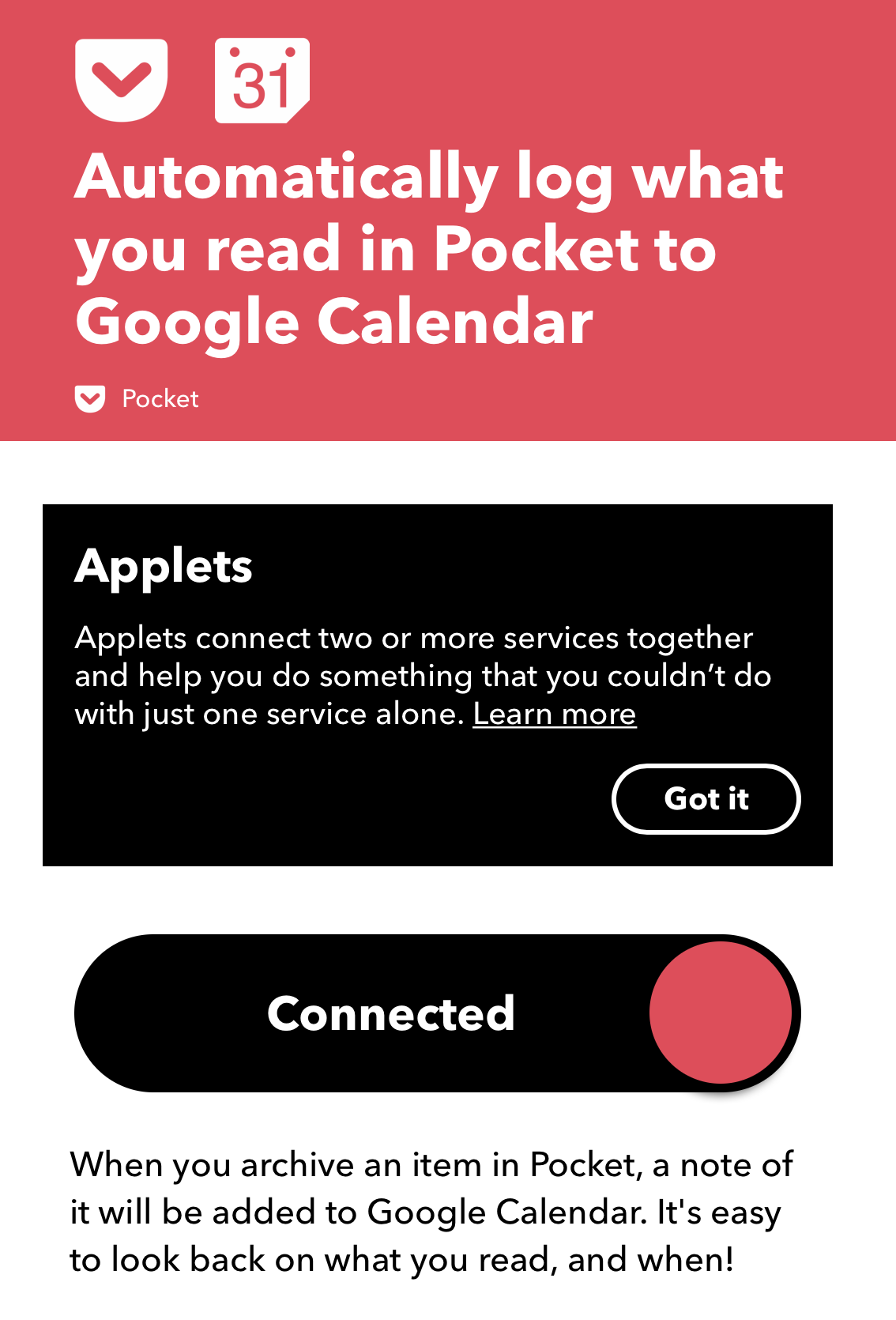 Then all you have to do is read within the Pocket app, and upon finishing an article, click the checkmark icon at the end of the article. Shortly thereafter, it will appear in your Google Calendar.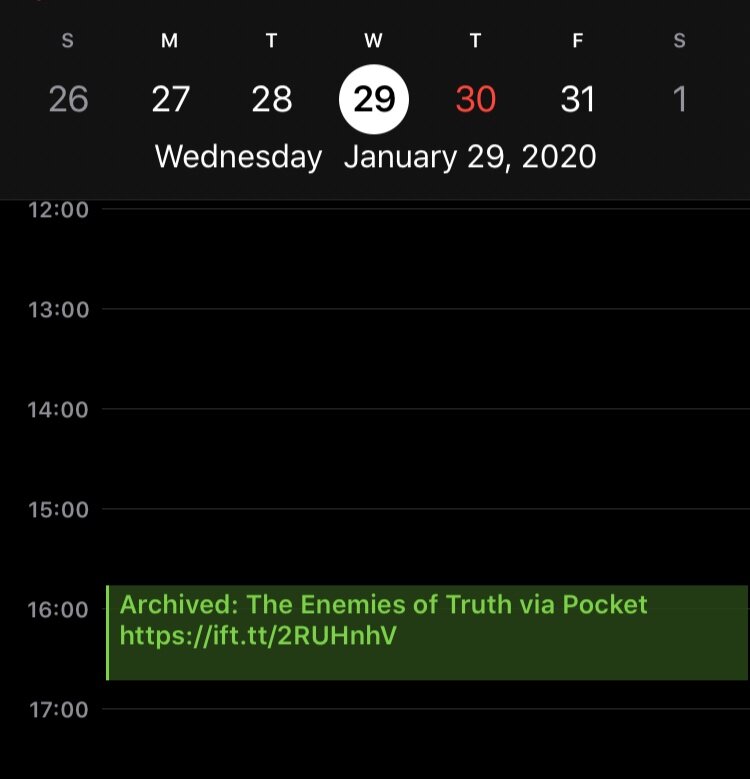 There is so much amazing writing out there these days, and it can be really easy to say, "Oh yeah, I'd like to read that" but then forget all about it. This tracking workflow helps ensure you don't lose track of things you want to read, and it gives you that visualizing boost of confidence to keep going. Anything that leads to people reading more and more of the excellent reporting and writing out there is a friend of mine.