New Year, New Me, New Shoes
Once an ex-girlfriend and I were walking along a downtown sidewalk, and we passed a shoe store. I saw some in the window that I loved. I wanted to buy them.
Inside, as I tried them on, she filmed me and captioned it something along the lines of "white guy sheds his coat," because the shoes I was excited to try on looked so much like the ones I was already wearing.
I didn't end up buying those shoes that day; the fit was wrong. She actually ended up giving them to me as a surprise gift not too long after that.
But the shoes that I was wearing — a pair of Nike Killshot 2s that I'd bought from a J. Crew while living in Mississippi — were my favorite. They were already at least three years old by the time I tried on those from the window. And that story was at least two years ago.
I flew home to Tennessee not too long ago, and while there, I did some shopping. I bought a new pair of shoes, and instead of trying to make room in my bag, I finally killed my Killshots. They'd been good to me and had lasted remarkably well after about five years of frequent use.
The retirement didn't come with some kind of ceremonial burial; I just disposed of them, fairly dispassionately. It's not that they didn't mean a lot to me, but it just seemed like the right time.
Then a week ago, I got a package from my mom. It was an early birthday gift, and one I had to earn because she'd forgotten to put my apartment number in the delivery address so I had to track it down. I opened the package in the parking lot, not knowing what to expect. It was one of those gifts that are true surprises, as I hadn't asked for it at all.
Inside, were these: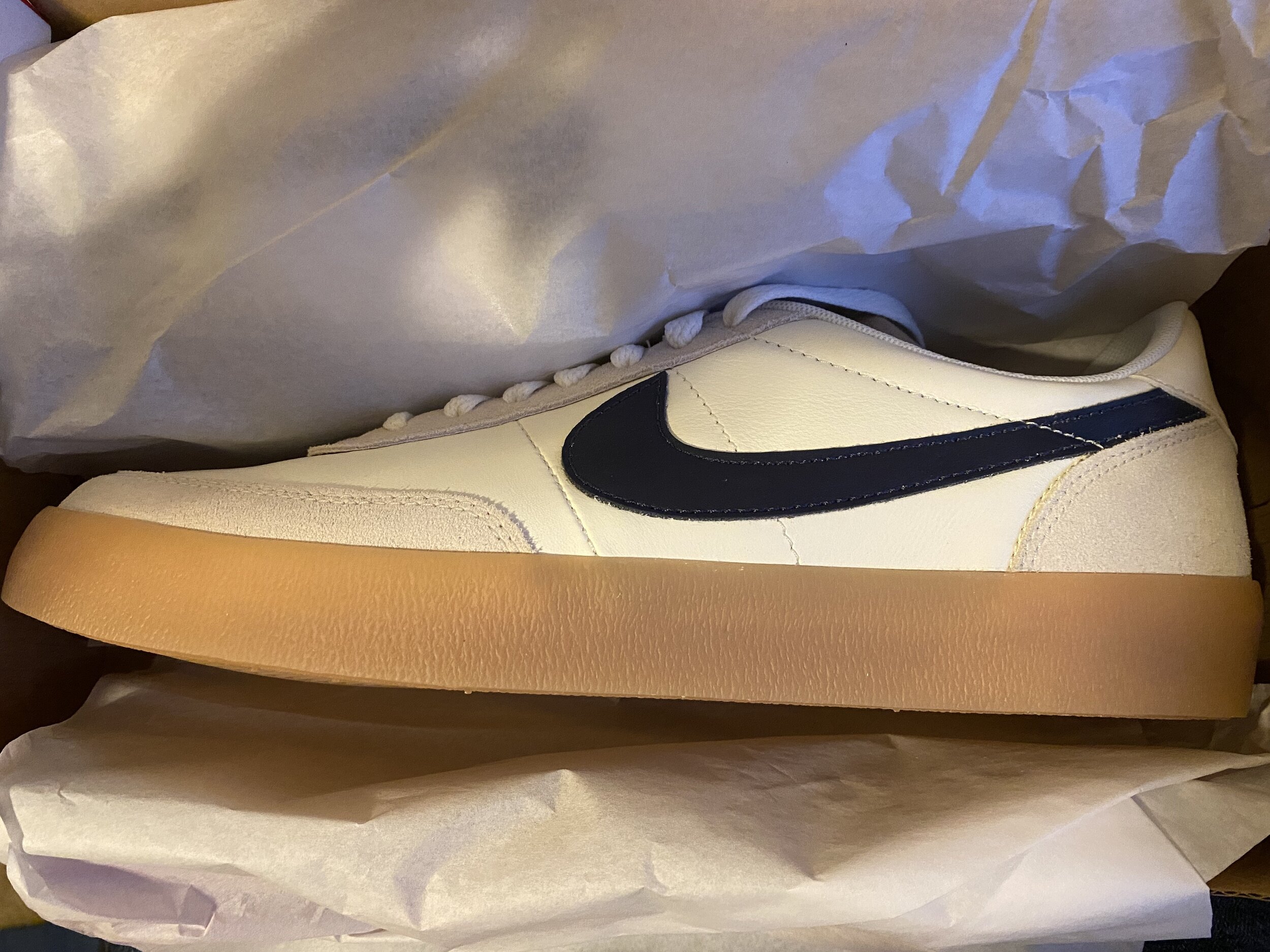 A brand new pair of Killshot 2s. She'd been forced to look everywhere for the shoe, and at the very last second, found them from Nike.
Today is that actual birthday, and today I'm wearing these shoes.
That may not seem noteworthy, and in all honesty, it's not. To me, it's symbolic.
I don't need to wear any shoes today. I'm now in my third week of working from home, not because of some massive outbreak of COVID-19, but because I recently changed jobs. Home is my office now, not a sparsely filled newsroom.
I'm still working through how I feel about that. Today, these shoes are helping.
The symbolism is twofold. Most basically, I think there's something nice to the thought of wearing these shoes for the very first time on my birthday. But more than that, I take comfort in the duality of newness and sameness. To see these shoes on my feet seems unremarkable at this point. The shoes have seen me as a disaffected young lawyer living in the heart of Mississippi. They saw me as a lost and wandering grad student in Columbia. They saw me unemployed and wandering in the early days of the pandemic. Until very recently, they saw me as a journalist in northeastern Wyoming.
These are new shoes, and they've seen very little. They're decidedly me, though, whatever that might look like.
This blog, like the shoes, is a familiar part of me. Or, I should say, writing is. This thing is full of false starts, pledges to write more or do better. Each one is embarrassing because it's a record of not following through, but I leave them on here as a reminder.
I want to continue identifying as a writer. To do so, I need to write. But that's much less a part of my daily responsibilities now. Unless I actively choose to write, and this blog and my dormant newsletter, Critical Linking, are my outlets now.
Like these shoes, it's a new me in a new year with a new commitment to writing. But just barely. It's more like reinvigorating an old favorite.