Earlier this morning, Ukraine's president,  Volodymyr Zelensky addressed a joint session of the U.S. Congress.
He told them frankly: "To be the leader of the world is to be the leader of peace."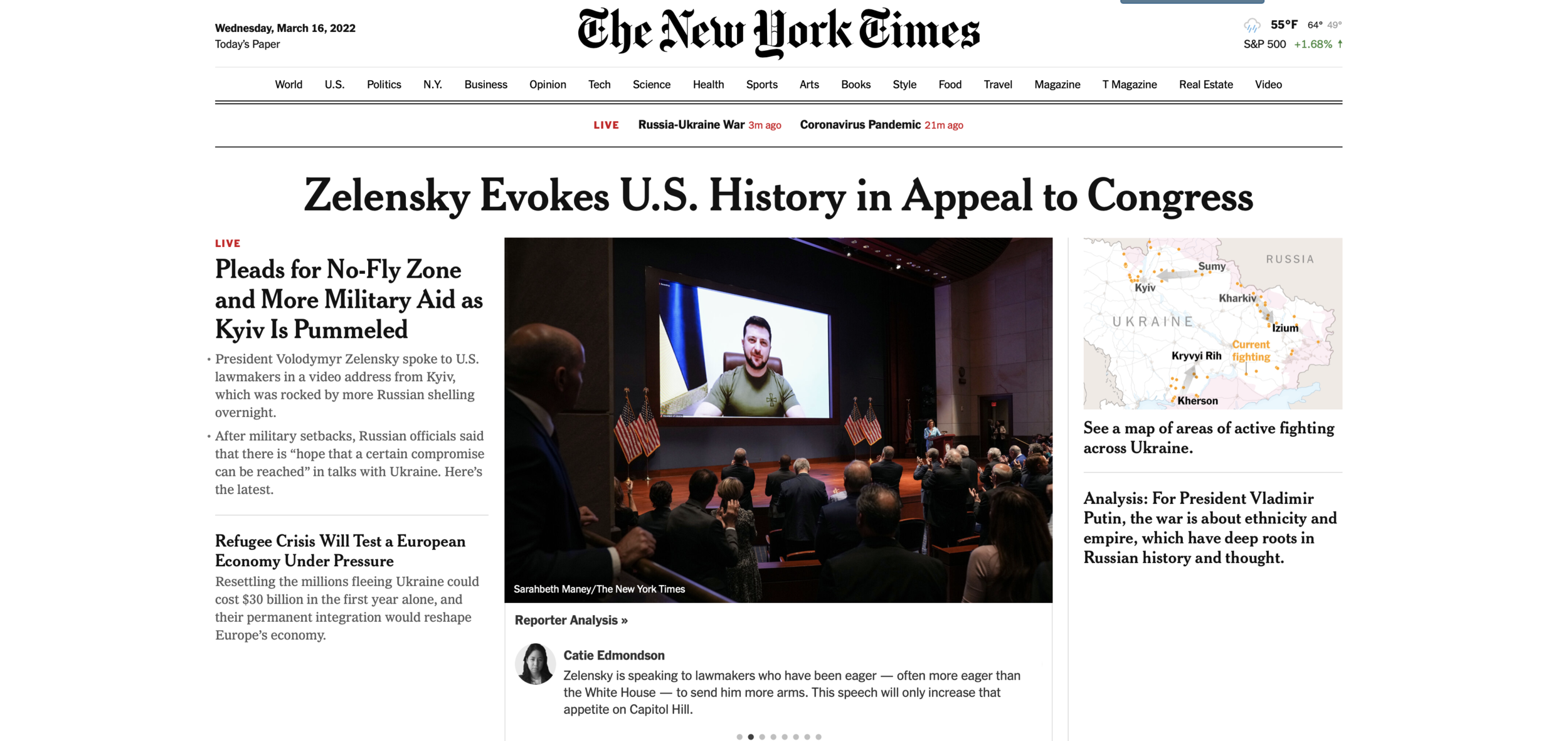 He called on them, on us as the U.S., to do more. He invoked 9/11 and Pearl Harbor. In many ways, that's not a wholly unexpected rhetorical strategy, but it does raise a serious question for us as Americans: What do we owe Ukraine?
I don't mean the foreign policy actions undertaken by the U.S. government. I can't imagine the feelings of those with a conscience as they sat and listened to Zelensky plead for assistance. There they sat, in arguably the world's greatest deliberative body, a decision-maker in the world's most consequential government, and in many ways, they know they aren't doing all that they could.
The world order is an arbitrary one, if much thought is given to it: Actions by Russia that would be met with a response unseen in modern times are met with much less because Ukraine isn't a NATO country.
That remove, that distance at which our government will strive to keep this conflict, is one of the driving forces of what I'm really asking when I say "What do we owe Ukraine?" What do we, the citizens of this country, those of us far, far away from the seat of power and have no decision-making authority, owe to Ukraine, in terms of our attention and concern?
It seems like a waste of a question, right? "Of course, we owe them our undivided attention!" Because that's the natural and compassionate thing to say, because we want to see ourselves as compassionate, concerned worldly people.
But I haven't written an edition of this newsletter in a few weeks. I've been traveling, first a week in Columbia, Missouri, for the True/False Film Fest and now midway through my second week at my parents' house back in Tennessee.
I attended a film festival. I played uncle to my niece. I visited with friends, many of whom I haven't seen in a long time, and it was wonderful to catch up. But catch up is what we did, and rarely, if ever, did we talk about an actual war going on on the European continent.
I asked one of my friends, in more of the meta sense than an organic discussion: Should we be talking about this war more? Does it make us bad people not to be talking about it? Are we just kidding ourselves when we proudly assert our education and cultural bona fides if we can't be bothered to talk about this hugely important thing happening in the world right now?
We were eating brunch after a fun night out with friends. We'd talked about stuff that would be considered normal and benign at any other visit. And we didn't really come up with a good answer.
Intellectually, we knew we could pay more attention; we knew it could be a bigger focus in our lives. But realistically it didn't feel that way. A Sunday brunch just felt like it ever has.
I wondered if we were a particularly problematic age for this type of reaction, because we'd come of age during the wars in Iraq and Afghanistan, wars that dragged on for much of our formative years and rarely elevated above a persistent hum in the background of world news. It's an admission that reeks of its privilege; I do not contest that fact.
Those wars, with American forces seeing actions, still did not touch my life in deeply personal ways. The closest of my friends did not enlist after we graduated high school; they went on to college or jobs and registered the wars as far-off things the same as I did. We gathered for football games and holidays and Sunday brunches, and we rarely thought about the wars.
News coverage has adapted to the reality of this war now. It's not as it was in those early days when there wasn't much to see yet, and questions remained about how serious this thing would get.
Now, it's constant. Any of the many news organizations I support with subscriptions are devoting a lot of time and resources to the war. Journalists are dying bringing the stories to the public.
I can't pretend that it's not happening; I can't pretend there's nothing to read about it. While I'm not naive enough to think just reading about it makes a huge difference, I'm still forced to grapple with the basic question: What do I owe Ukraine?
And when, not "if' because it's sure to happen, I scroll on by the latest news from Ukraine and give it less than my full attention, I know my answer will be lacking.