Fraudster Friday
There is something unputdownable about a gripping story of lies, deceit, and obfuscation. Here's enough such stories to keep you occupied this weekend.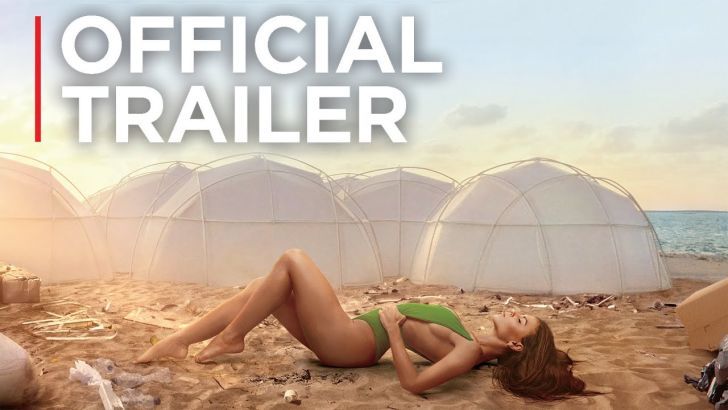 Common in our culture-consuming lives is the embarrassment of riches when it comes to options. The amount of time spent scrolling through streaming services is often not because of "There's nothing to watch" but rather "There's literally too much to watch." Any decision is an obvious time commitment, and the fear of getting it "wrong," so to speak, is a version of FOMO: the fear of missing out. "If I waste two hours on a crappy movie, I've made it that much harder to see actually great films, what with my limited amount of free time to view content at all." In our incredibly time-crunched lives, prioritizing what to watch/read/listen to, while definitely a first-world problem, is a reality.
Two weeks ago, I was back at my parents' house in Tennessee and, during the middle of the day, I was debating what to watch. I didn't want anything overly long, so that ruled out a lot of feature-length films. I didn't want a short half-hour sitcom like I so often put on as background noise, because I'm a sucker for the auto-play function and will end up watching more than a few. A backlog of options in "My List" on Netflix awaited me, but only a few fit the criteria I'd set out; one of them was the Fyre: The Greatest Party That Never Happened.
A brisk hour-and-a-half long, which was perfect. I'm well behind the curve on this one, as it's been out for over a year now, but l gave it a shot. Brief refresher for things that may have been pushed from your mind in a year's time: The Fyre Festival was supposed to be the next Burning Man-level music festival, full of big name artists and picturesque settings on the personal island of drug kingpin Pablo Escobar; it was sold by way of viral marketing featuring beautiful models and promised luxurious accommodations. In the end, it was a disaster, with well-off Millennials and social media influencers stranded on an island with no concerts and supposedly nothing to eat but cheese sandwiches. In a bit of schadenfreude, I liked it just fine, but afterwards, I wanted to complete my education on the subject, so I next watched the Hulu version of the same subject matter, Fyre Fraud.
These competing documentaries are not without their own controversies nor are they must-see viewing, but the topic of fraudsters and fakes set its hooks deeply in me.
That night, in keeping with the day's theme, I watched the HBO documentary, The Inventor: Out for Blood in Silicon Valley, about Elizabeth Holmes and Theranos. It was directed by Academy Award-winning director Alex Gibney and debuted at Sundance a year ago. Holmes was a next-level fraudster who viewed herself as Steve Jobs-like, convincing investors and the wider public that her technology could run numerous blood tests from only a tiny amount of blood taken from a finger stick instead of a veinous blood draw. Unlike Jobs's technology, it couldn't do a fraction of what she promised.
Whereas the HBO treatment of the McMillion$ scandal benefitted from more time and depth, the opposite is true for the Elizabeth Holmes documentary. It's a great primer to this story, but it's a complicated story. It's partly about Elizabeth Holmes and what motivated her, partly about how those motivations manifested in the form of Theranos, and full of nuance and numerous characters that are done a disservice in the two-hour format. My first in-depth engagement with this story was in the form of a podcast called The Dropout, a six-episode look at Elizabeth Holmes and her deceptions.
But the real deep dive belongs to John Carreyrou, the Wall Street Journal reporter who broke the story of Theranos's lies. His full-length treatment of the material, Bad Blood, is a masterwork of investigative reporting and narrative storytelling. While every part of the story is worthwhile, I love the last few chapters of the book, when Carreyrou himself becomes a character in the story, after he's gotten the tip that prompts his investigation. I love the post-modernism of Carreyrou writing about the writing of his article and book, but especially so when it has connections to Columbia, Missouri. The source that tipped off Carreyrou was Adam Clapper, a Columbia-based pathologist who wrote a blog, Pathology Blawg, about the intersection of law and pathology issues. Clapper had helped Carreyrou on a separate investigation, and when the larger-than-life claims of Holmes and Theranos were profiled with some doubt by Ken Auletta in The New Yorker, Clapper called up Carreyrou. This came as news to me but wouldn't have if only I'd paid attention to the April 8, 2019 edition of my former paper, the Columbia Missourian:
I recently finished the audiobook version of Bad Blood, and it's a wonderful listen. Carreyrou's writing is clear and crisp and concise, and the narrator is engaging without being overly performative. I highly recommend it.
---
I've been listening to a lot of audiobooks lately, and not all are as good as Bad Blood, neither in content nor performance. The Woman in the Window, written under the pseudonym A.J. Finn, is just such an example, and interestingly enough, it's on-theme for this newsletter. The story itself is so-so, written in the vein of Gillian Flynn's Gone Girl and Paula Hawkins's The Girl on the Train — a shaky, unreliable first-person female narrator describes a tale full of thrilling twists and turns. The audiobook narration of The Woman in the Window is a bit too performative for my tastes, with the constant breathiness and drama of the performance trying to liven up fairly pedestrian writing. You can get a taste for both the prose and the performance here:
By far the most interesting part of the book is extra-textual; it's the author, Dan Mallory. Amid the hubbub surrounding the book's release (my criticisms aside, the book is immensely popular for fans of the thriller genre), The New Yorker's Ian Parker wrote one of my favorite stories in recent memory, where he reconstructs much of Dan Mallory's life and sets fire to much of Mallory's self-styled mythic status. Parker describes a charming, handsome gifted writer for whom those qualities do not seem to be enough, who embellishes and fabricates until his life is something quite extraordinary, if true. But Parker gives the reader every reason to believe it's not true at all.
It's a story that, on many levels, shouldn't be half as good as it is; it recounts, in painstaking thoroughness, lies and falsehoods that any number of us might be subjected to from associates who play fast and loose with the truth. But as an artifact of what's possible when a gifted reporter turns his gaze on a salacious yet relatively mundane topic, the piece sings. It has one of the best endings ever — not because of any pyrotechnics with words or lyrical beauty, but just a well-conceived, fitting end that begs for a "To be continued…" tag to follow. The one caveat for reading the story: It WILL spoil the ending of the novel, though the author gives a warning in the text before he does so. But, for my money, The New Yorker profile is a much better use of your precious reading time.
---
While on the topic of potential fraudsters of the mundane and excellent pieces by The New Yorker, let me recommend one from last week on Jeanne Calment, purportedly the oldest person to ever live. She died in 1997 at the age of 122 years, 5 months, and 14 days. She was born in 1875 into a world that had not yet invented "plastic, tea bags, public trash cans, and the zipper." But there are some out there who doubt the veracity of Calment's claim to oldest age achieved by a human, and the article explores the debate. On one level, it seems like such a silly thing to care about, but on another, you can see French pride in her longevity and futuristic hope that aging might not be fatal.
---
From the Fraudster Archives
I recently purchased a subscription to Vanity Fair, and in addition to the monthly glossy that shows up to my door, I get access to VF's digitized archive, which is incredible. On the topic of frauds, there's no way to overlook Stephen Glass, of The New Republic infamy, who fabricated at least 27 stories for The New Republic while making a name for himself as the up-and-coming journalist of the day. Buzz Bissinger told the in-depth story of Glass's rise and self-destruction for Vanity Fair in 2007. It sets the hook from the very beginning, with this powerful lede:
"Nothing in Charles Lane's 15 years of journalism, not the bitter blood of Latin America, nor war in Bosnia, nor the difficult early days of his editorship of the fractious /New Republic,/ could compare with this surreal episode. On the second Friday in May in the lobby of the Hyatt hotel in the Maryland suburb of Bethesda, near Washington, nothing less than the most sustained fraud in the history of modern journalism was unraveling."
Read the rest here:
The unraveling that Bissinger chronicled was so cinematic that it served as the inspiration for the film version of Shattered Glass, starring Hayden Christensen, and holding a 91% Fresh rating on Rotten Tomatoes.
I just rewatched it, and man, oh man, does it capture the neediness of writers so well. Christensen plays Glass as what Bissinger calls "brutally self-flagellating," with such whine and put-on insecurity that you can't help but want to reach through your screen to punch him in the face. I get it; I do it, too. Be the first to take a shot at your work so the next criticism from an editor or fellow writer doesn't sting as much. But in the film, it comes in the form of Glass delivering the wonder-pitch that the rest of the room would die for yet he "aw shucks" the whole thing away. But the insecurity for writers (and all creatives) is real, and, as a lifelong sufferer of the affliction, it's all the more galling that Glass used it to provide cover for stories he just made up.
I think that the part of the film that resonates with me the most is the ending — The New Republic's response to the scandal. In an age of Fake News allegations (and actual fake news), it's inspiring to watch a newsroom be shaken to its foundation at the realization that it had published falsehoods, for such actions to rise to the level of a five-alarm fire that requires all hands on deck to make it right. It's a response that would happen in countless newsrooms across the country, and it pains me that more people don't know that.
---
If you liked what you read, please sign up, follow me on Twitter (@CaryLiljohn06) and then forward to friends to help spread the word.