Switched Up
On the magic of coincidence, plus stories of America in the age of social media, Tucker Carlson's rise to power, missiles, #VanLife and more.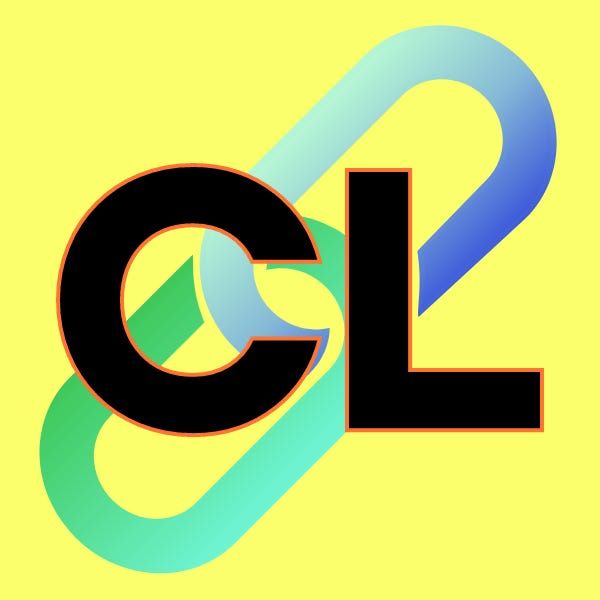 I had an opportunity (possibly my last one) to write a story for my former newspaper. The paper was recently sold, and the editor who brought me out here has retired, so the luxury of the occasional freelance piece isn't one that new management is likely to deem desirable.
The story was, for all its narrative complications, a straightforward one: Twenty years ago, a woman born in the local hospital discovered a shocking truth that confirmed long-held feelings of not belonging; she'd been switched at birth, given to another new mother and lived for 43 years under the mistaken assumption that she was a part of this family to which she shared no biological connection. Now, she was telling her story in a book.
It was a difficult story for the woman to tell, and she'd never spoken to media outlets despite national news covering the story back in the early 2000s when the discovery was made.
Instead of recounting the details of the story, I wanted to use this space to write about how the universe lines up, every now and then, to give you the feeling that what you're doing is supposed to be happening.
The day before I was to meet with the woman for our interview, I was reading the original news story that our paper did about the discovery of the error and the reunion of the biological families. The story was marginally helpful for what I'd be tackling the day because the woman hadn't participated in the story. I used the original story as a way to learn the players in the story, the general outline of what happened. But I wouldn't be writing much about that. It was a part of the story, the part that was most likely to hook a reader, but the story I hoped to tell was what life had been like for this woman before, during, and after learning the truth of her birth.
I was seeking more generalized, thematic inspiration, some idea of how I'd shape the story in order to inform the questions I wanted to ask about. I remembered an episode of This American Life I'd first listened to at least seven or eight years ago. I knew that had to be the case because I remembered being in Mississippi when I'd first heard it.
So I went to This American Life's website to see if I could find the story. To my surprise, I didn't have to look hard. It had recently been reposted as the show's most recent episode. It was right there at the top of the page; as soon as I reached the page, the search was over.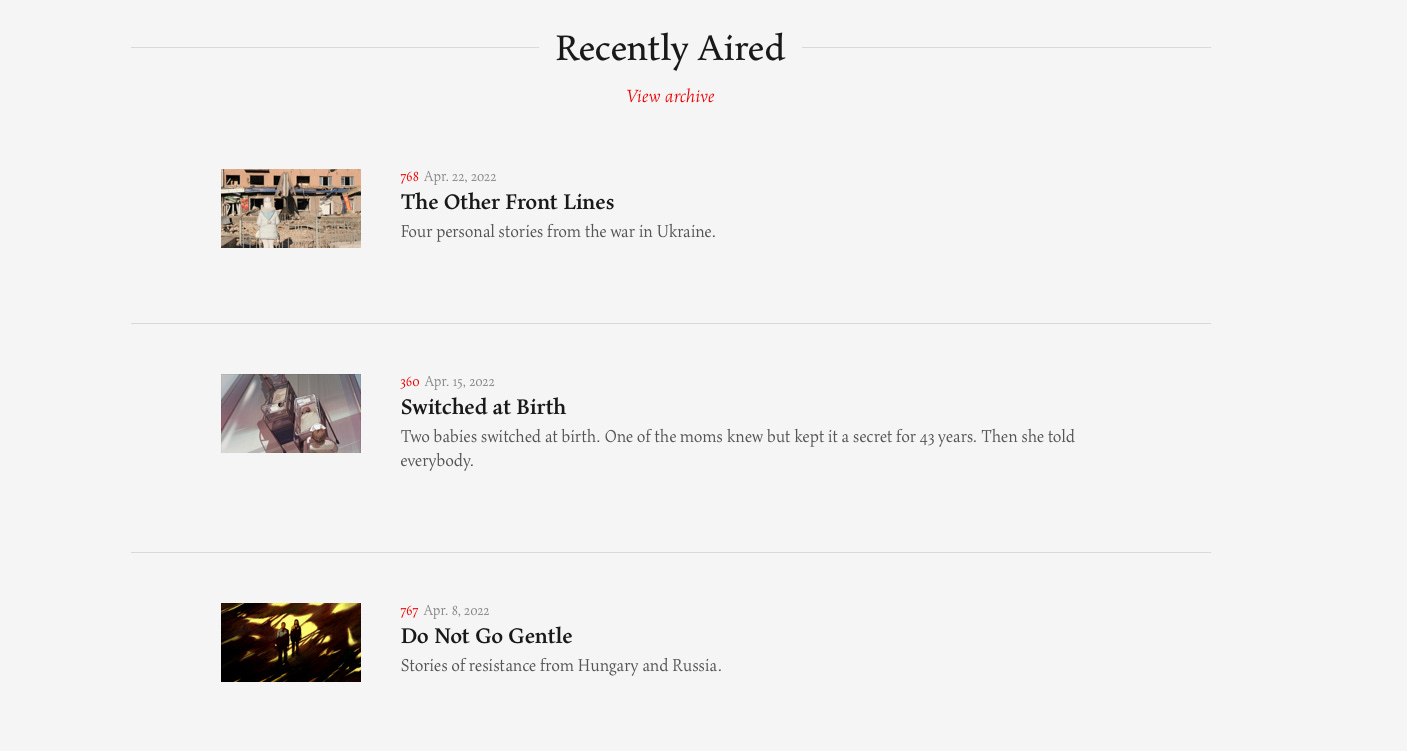 You can see from this screenshot it's still very near the top of the page; two weeks have seen two other stories posted since then. The episodes all around the "Switched at Birth" episode are all recently reported, whereas the "Switched at Birth" story was a re-run. It originally aired in 2008, which means when I heard the content in around 2014, I was late to it even then.
The week I looked it up was not significant to the story nor was it the anniversary of its original publication. In short, I have no idea what prompted the folks at This American Life to republish it when they did.
But I found it, as simple a coincidence as that is in the grand scheme of things, it felt reassuring. Other small things made it feel like it was on the right trail: The women in the This American Life story also found out they were switched at birth when they were 43. One of the families in the This American Life had lots of kids, and one had a much smaller clan, just like the two families in my story. There were physical differences that made the women in the This American Life story deal with suspicions that they'd been adopted because they didn't look like their siblings, just like the woman I'd interviewed, who was referred to as "the little dark one" by those who know her family.
At the end of our interview, I told the woman about some of these defining characteristics of the women depicted in the episode, and she asked me, "Was it about me?!"
Of course, it wasn't, but it just felt right that all of that should have happened before this woman shared her story with a reporter for the first time ever. It just felt right that my final assignment for the paper, my final assignment for my editor, would be stamped by the universe by this coincidence. I can't claim to know whether it affected my writing of the story or whether it provided some level of inspiration or even an infinitesimally better sentence anywhere in the story, but it made me feel slightly less alone during the very lonely process of writing a story, and for that, I'm grateful for this meaningful backstory to an interesting story.
---
Ten Worth Your Time
---
Culture Diary
Here's a collection of what I've been watching in the past three weeks (because it's been so long since I've checked in).
Remember: The legend for my list was stolen from Mr. Soderbergh, where ALL CAPS represents a movie, Sentence Case is a TV show, ALL CAPS ITALICS is a short film, and Italics is a book. A number in parentheses after a TV show highlights how many episodes I watched. An asterisk after an entry means it's a rewatch. The source of the movie or show, whether streaming service, physical media, or in theaters, is shown in parentheses as well.
4/10:ROTHANIEL (HBO Max)
4/11:Better Call Saul, S5 (Netflix); Minx (HBO Max)
4/12: Better Call Saul, S5 (Netflix); THE INSIDER (Hulu)
4/13: Moon Knight (Disney+); Abbott Elementary (Hulu)
4/14: Better Call Saul, S5 (Netflix); Tokyo Vice (2) (HBO Max)
4/15: Atlanta, S3 (Hulu)
4/16: Minx (3) (HBO Max); Slow Horses (AppleTV+); DEEP COVER (Tubi)
4/17: Winning Time (HBO Max); Better Call Saul, S5 (5) (Netflix)
4/18: Better Call Saul, S6 (2) (AMC+)
4/19:
4/20: Moon Knight (Disney+)
4/21:
4/22: Tokyo Vice (2) (HBO Max); Slow Horses (AppleTV+)
4/23: Atlanta, S3 (Hulu); Winning Time (HBO Max); Outer Range (2) (AMC+)
4/24: The Nineties; Outer Range (2) (Amazon Prime); Barry, S3 (HBO Max); Winning Time (HBO Max)
4/25: BEETLEJUICE (Hulu); SWISS ARMY MAN (Showtime); Better Call Saul, S6 (AMC+)
4/26:
4/27: THE UNBEARABLE WEIGHT OF MASSIVE TALENT (Theater); Moon Knight (Disney+); AFTER YANG (Showtime)
4/28: THE NORTHMAN (Theater)
4/29: Slow Horses (AppleTV+); Tokyo Vice (HBO Max); Under the Banner of Heaven (2) (Hulu)
4/30: EVERYTHING EVERYWHERE ALL AT ONCE (Theater); THE WITCH (Showtime)
5/1: THE LIGHTHOUSE (Showtime)
---
If you liked what you read, please sign up, follow me on Twitter (@CaryLiljohn06) and then forward to friends to help spread the word.