The Sublime Beauty of Empty Spaces
See public spaces as never before, thanks to stunning photo essays documenting humanity's retreat indoors during the coronavirus outbreak.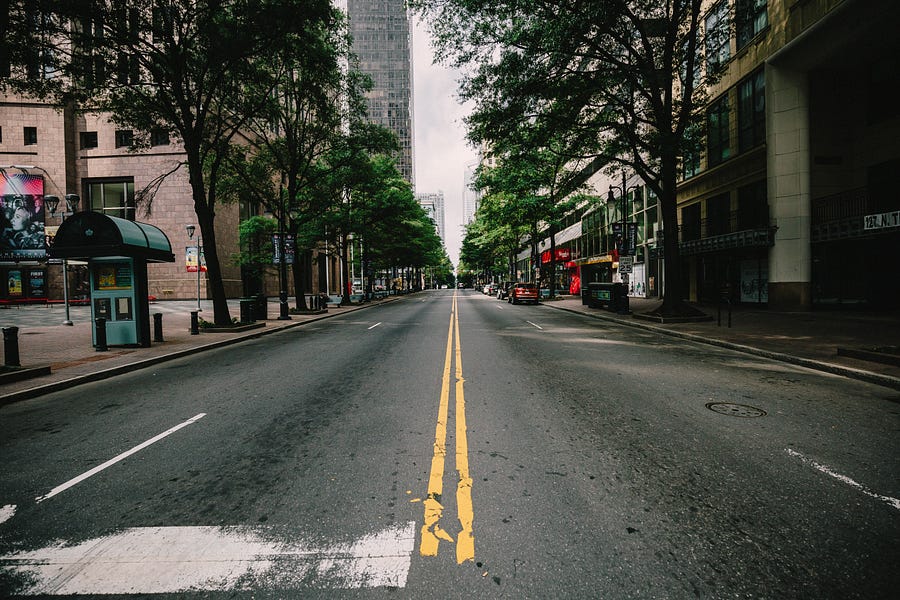 The global slowdown due to the coronavirus gives us, among other things, a moment to reflect on our place in the world. It seems easier to do so when you're out in the world, somewhat alone. If you're anything like me, you've noticed such aloneness as you've been out for a walk to get some fresh air or walk the dog – streets don't bustle anymore, cars don't zip past you, pedestrians are few and far between.
And without all the people around, we find the time to stop and say, "Look at all of this we, as humans, have made and done." On my afternoon walk that I'll take in just a few minutes, I'll stroll down man-made sidewalks; pass man-made hospitals, schools, and churches, all massive buildings built from the ground up with a very singular and specific purpose in mind; I'll stop at streetlights managing the rhythms of a city; look up at the halls of government and the jail that holds people captive; smell the food of restaurants. All of that, and it's not even that long a walk.
If the hustle and bustle of the city is something to normally annoy me, I hope I can take my own advice and remember that human civilization is something awe-inspiring, something to behold. I know I've certainly felt that as I've enjoyed some incredible photography during this coronavirus pandemic. The photographs of the outside world take on new scale and grandeur when factoring in the absence of the masses.  Many of the sites are constantly covered up by people – pedestrians, tourists, what have you – and because of this fact, we ultimately fail to see the sites at all; our eyes, all too often, stop on the people. The people, however, shouldn't be the focus; the people don't make the sites beautiful. The beauty is what explains all the people.  As orders from governments around the world have emptied out some of these spaces, these public spots have taken on a still and quiet majesty that allows for a re-examination of what makes them so popular in the first place. "Look at what you can do," they seem to whisper, slightly in awe of themselves.
It seems like a simple thing: an empty public space. But think about how noteworthy such an occurrence strikes us when we encounter them, even if it's only in the context of being a tourist and trying to take a picture without strangers in the background. Think about what else on Earth could cause these spaces to empty out like they have; they're still there, functional and open to the public if only the public were allowed out in the open. But we're not. Luckily, photojournalists are giving us a glimpse of such ghost towns, and their photographs are stunning and awe-inspiring, the very next best thing to being there.
The photographs here all tell a similar story: a temple in Indonesia; Haneda Airport in Tokyo; the Americana Diner in New Jersey. Emptiness proliferates like the virus.

The Times recently sent dozens of photographers out to capture images of once-bustling public plazas, beaches, fairgrounds, restaurants, movie theaters, tourist meccas and train stations. Public spaces, as we think of them today, trace their origins back at least to the agoras of ancient Greece. Hard to translate, the word "agora" in Homer suggested "gathering." Eventually it came to imply the square or open space at the center of a town or city, the place without which Greeks did not really regard a town or city as a town or city at all, but only as an assortment of houses and shrines.
See it here:
---
In cities and regions hard-hit by the coronavirus crisis, quarantine measures and self-isolation efforts have left many public spaces deserted. Classrooms, plazas, malls, sports venues, cafes, houses of worship, and tourist destinations appear eerily empty as people stay home, cancel plans, and await further news.
Take in the beauty here:
---
While the The New York Times and The Atlantic photographs capture the beauty of various locales at street level, The Guardian took to the sky for its view of now-empty spaces.
Look down from on high here:
---
But for sheer scale, this WIRED photo slideshow is hard to match. Reduced  to bug-sized from space, humans cover the ground before the virus as if a giant had just stepped in a bed of ants. Now it's like the ant colony has packed up and moved, leaving behind only a few stragglers. Other unique perspectives include a rental car lot, these days filled nearly to full capacity, and the rapid hospital construction projects in China.
Can you see the novel coronavirus from space? You can, as it happens—if you know where to look. Since January, the Colorado-based space technology company  Maxar has been taking low Earth orbit satellite photographs of Covid-19 hotspots in places like China, Italy, and America. The company's four imaging satellites take the highest-resolution commercially available photographs, which they sell to clients including governments, corporations, and nonprofits. When major news breaks, they often provide their imagery to media organizations.
Feel tiny here:
---
If you liked what you read, please sign up, follow me on Twitter (@CaryLiljohn06) and then forward to friends to help spread the word.