A Can't-Miss Story About Bleeding on George Clooney's Couch
Former Esquire writer Chris Jones recounts a random story about how emergency gall bladder surgery couldn't keep him from his interview with Hollywood's leading man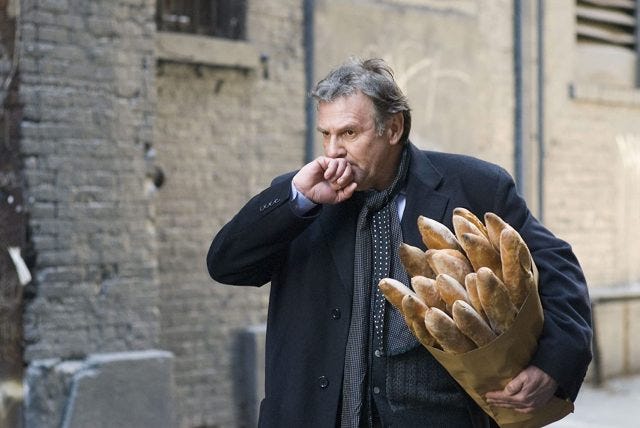 Presumably because it's on HBO right now, I've seen a lot of Twitter chatter related to the 2007 film Michael Clayton. The majority of the comments dwell on the fact that the movie is next-level good, despite the fact that, at the time, it was kind of slept on by many moviegoers.
There's so much contained in the film. Chris Ryan on The Rewatchables podcast said it was originally sold as a "John Grisham-y movie about one lawyer fighting against a huge system."But it was so much more. Ryan goes on: "It's ultimately a story about greed, and conspiracies, and morality. But it's also about midlife crises, and addiction, and failure, and ambition, and so much more."
As you can see from Brodesser-Akner's tweet, there's powerful and captivating storytelling going on here, and that's saying something because she's a wonderful storyteller in her own right. And that brought me around to the film's star, Mr. George Clooney and one of the many times he was the focal point of an Esquire article. In the article, writer Chris Jones wrote the following of Clooney:
He wants to tell a story. He is a good storyteller, conscious of detail and pace, each tale unfolding in three quick, clean acts. Every story he tells sounds like a pitch.
Which seems inherently true. From interviews on TV, Clooney has a practiced cool, an easy-going charm that makes everything he says seem like it could have been scripted for him. But more than that, this compliment/observation from Jones belies the great story that was going on behind the scenes as Jones sat there for the interview.
Jones has written about it previously, when he was still at Esquire and blogging regularly on his own blog, but it recently came up on Twitter as Jones strung together a thread that earned him 17,000+ new Twitter followers practically overnight. It's amazing, and you won't be sorry for falling into this rabbit hole. So many journalism pieces have great behind the scenes, how-was-this-made? details that readers never get to know, but this one might take the cake:
Now THAT is a story, right? So well done, an actual masterful use of Twitter's thread function. Each little tweet is a perfect bite-sized nugget of story, and it pulls your forward. Great storytellers tell great stories wherever they are – in a living room, at a bar, on a date, around a campfire, in a screenplay, for a men's magazine, or on Twitter.
In honor of ESPN's "The Last Dance" wrapping up this past weekend, enjoy Chris Jones's writer's equivalent of the "flu/pizza" game :
It's More Fun to Be the Painter Than the Paint | Esquire
---
If you liked what you read, please sign up, follow me on Twitter (@CaryLiljohn06) and then forward to friends to help spread the word.