Cars 3: Where it all started
Cars 3 is an enjoyable romp that felt like a do-over by Pixar to make up for whatever was going on in the previous Cars sequel.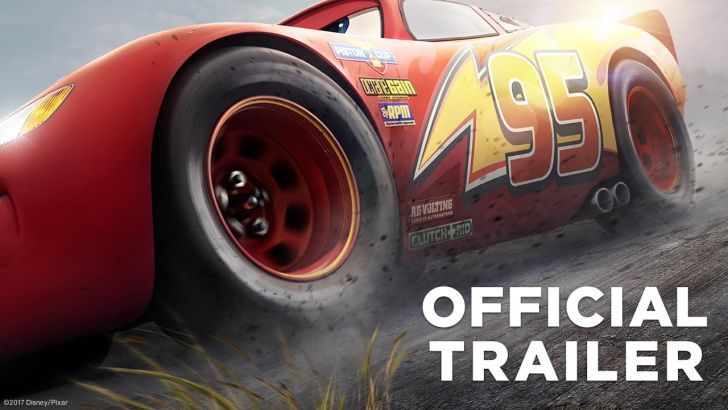 As promised, this begins The Pixar Project, where I'm going to review all of the Pixar films in the run-up to the Dec. 25 release of Soul. If you know a friend or relative or Pixar aficionado who'd enjoy this project, please pass it along.
---
As I mentioned when I first started this little Pixar Project, I got my first byline in an actual newspaper thanks to Pixar films. I was working as an attorney, but I had a dear friend from the local Rotary club who was a one-person newsroom for the local paper. He wrote stories, shot photos, laid out pages, and did everything else needed to make a weekly newspaper. He invited me to do film reviews for the paper, and I jumped at the opportunity.
The opportunity came with strings though: I couldn't review films that weren't rated G or PG, which left me without many films to see about which I could write. Animated films make up the bulk of such offerings, and Pixar films were a welcome relief.
I wrote for that paper in the same way that I interacted with many aspects of that small Mississippi town that was packed with so much history, which is to say I did so constantly conflicted. The paper, then owned by a man so convicted by his Christian values that movies couldn't be rated PG-13 and earn a review in print, had originally been formed in a push by the local Citizens' Council as a retaliatory move against a Pulitzer Prize-winning editor, Hazel Brannon Smith, on account of her crusading editorials decrying the Jim Crow practices in the town. Her paper was eventually put out of business, and since that time, the paper that published my film reviews under the column title "Reel Raves" was the only paper in town.
In honor of those early reviews, I'm reprinting the first one I ever wrote in lieu of writing a new one for The Pixar Project. Everything is copied straight from my Google Drive, where it's sat untouched for more than three years now. You'll see a lot of the general claims I've made in these posts about Pixar and some background that may not seem necessary considering this present project, but cut me some slack; the words were written in July 2017.
---
A well-rounded animated film, "Cars 3" shows Pixar returning to find the sweet spot in the franchise that it missed in "Cars 2," with a story that is funny, sweet, and at times sad, but despite all these pros, "Cars 3" is firing on maybe only six out of eight cylinders.
Lightning McQueen (voiced by Owen Wilson) is back at it again, this time as the elder statesman of the racing circuit; racking up wins, he seems at the top of his game. But the game as he knows it is changing: a new breed of technologically-advanced young racers break onto the scene, led by Jackson Storm (voiced by Armie Hammer), a young stud who grew up watching McQueen in his prime. In a desperate attempt to remain relevant, McQueen pushes himself to the breaking point and suffers a devastating crash.
McQueen returns to Radiator Springs to recuperate and soul-search. He's welcomed by old friends: Sarge, the no nonsense Army Jeep and his unlikely friend, Fillmore, the hippie VW van, Sally, a smart and sassy lawyer Porsche, who also happens to be McQueen's love interest; Ramone, the brilliant paint shop lowrider; Flo, a flashy 1950s show car and diner owner; Luigi and Guido, the Italian tire masters, and the one and only Tow Mater with all his folksy wisdom and charm.
More changes follow, namely new management for McQueen, who at first seems eager to let his old hero have a shot to reclaim his throne, but he soon shows an uglier side--one that's intent on making McQueen nothing more than a marketing spokesman. To avoid this fate, McQueen must prove himself, and there's no room for failure. To assist him on his return to form, a personal trainer named Cruz Ramirez (voiced by Cristela Alonzo) pitches in, but she, like seemingly everyone McQueen encounters these days, is young enough to have grown up idolizing the aging star. Unconventional training and help from unexpected sources lead to one final race that will determine McQueen's future in racing.
The desire to appeal to both the children and adults in the audience is a staple of Pixar and what makes the movies so universally beloved. My mom repeatedly says to me, "There isn't a day so bad that can't be made better by watching Toy Story." This sage advice from a mom to her 29-year old son is a testament to the long-lasting appeal of the layered humor in Pixar's greatest films. With "Cars 3," Pixar again layers its humor, and the funny parts are more generally accessible by the children in the audience, but the overarching themes of the movie are more felt by the adults in the audience, namely the passage of time and diminishing of abilities. The children in the audience may understand the story, but they are years away from any appreciation of what McQueen is going through in this film.
The passage of time brings changes, and one of the most notable changes in McQueen's life is the absence of The Fabulous Hudson Hornet, known to his friends as Doc, whose ghost looms heavily over most of the film. Missing Doc's mentorship, McQueen searches for inspiration by finding his way to the birthplace of stock car racing--the hills of North Carolina. Thomasville Speedway was the home track of Doc Hudson, and McQueen treats his visit as a pilgrimage to a holy land, much like a reverent blues enthusiast might treat a visit to the intersection formed by Highways 61 and 49 in the Mississippi Delta. A deep and abiding respect for the history of the place washes over McQueen, and despite Doc's absence, a symbolic transfer of power and wisdom from mentor to mentee takes place at the old race track. This reality is all-too-familiar to adults in the audience, as we've all struggled to overcome and persevere by often looking to the past for inspiration, guidance, and strength. This pays off for the film because it deals with established characters in this universe, and without much effort at all, we see the human stories and drama unfold in the lives of these animated cars.
Sadly, "Cars 3" falls short of the brilliance of Pixar classics like "Toy Story" and "Finding Nemo." This is not surprising, since sequels rarely retain the magic spark of the original, but the standard to which we hold Pixar is different exactly because of the two franchises I just named and the wildly successful and high-quality sequels they produced. But "Cars 3" is no slouch, packing subtle humor and heartfelt emotion into an stereotypically stylish Pixar package. Kids will laugh, adults will think, and all will enjoy.
---
If you liked what you read, please sign up, follow me on Twitter ( @CaryLiljohn06 ) and then forward to friends to help spread the word.