Say It Ain't So, Twitter
What happened to the regular ol' hellsite that we used to know on the bird app?
Yesterday I wrote about two worrisome reports related to social media. I also wrestled with why I want to have a digital footprint at all, in the form of a website, blog, and newsletter, when a social media account could theoretically accomplish many of the same goals.
I tried to differentiate my use of Twitter from the old-fashioned intent of Facebook. I prefer the conversational aspect of Twitter. I like the immediateness of it, how it serves as a real-time finger on the pulse of news and culture. I like how I can curate an experience that indulges my niche interests. And I like how it's primarily text-based; it is, after all, a platform for micro-blogging.
It pains me to see that all of the things I like are modest enough to warrant the question: Is it even worth it now that the site looks like it does? Which is to say, the site, always capable of being a gross and terrible place (if you went looking for it or didn't otherwise diligently curate your feed), has sunken even lower during the reign of Chief Twit himself, Elon Musk.
Charlie Warzel's most recent article for The Atlantic sums it up pretty bluntly in its title: Twitter is a Far-Right Social Network.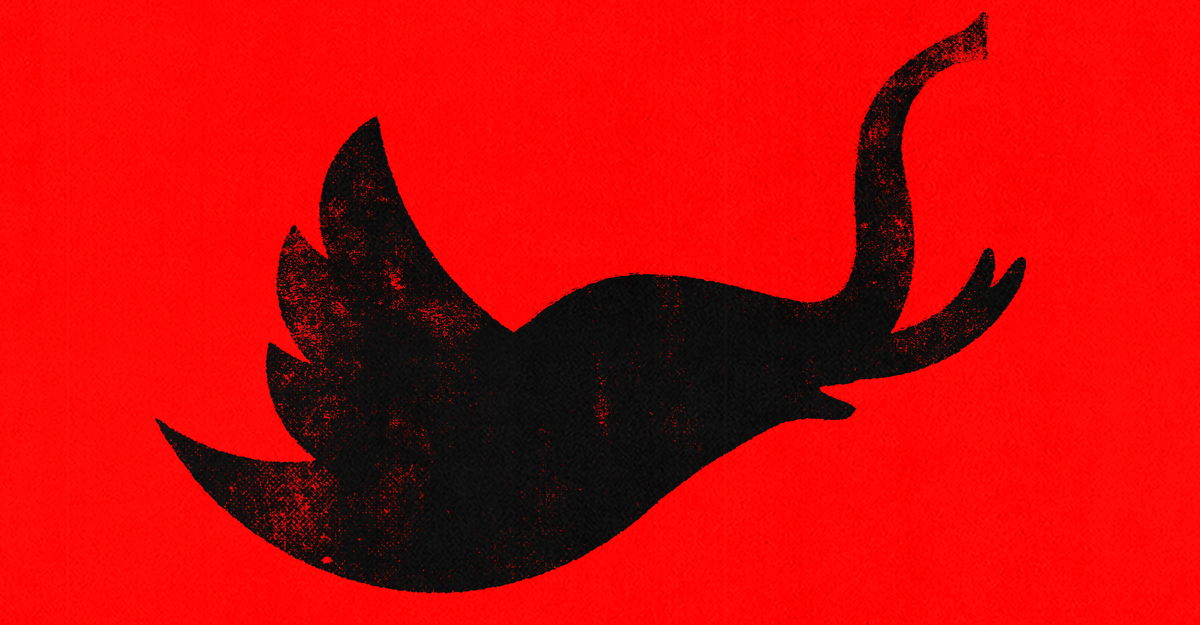 If a person weren't so inclined to scroll around the site for a while to see if she noticed a difference, this single paragraph from Warzel would be damning enough in its own right:
In just a few months, Musk has actively worked to elevate a particular right-wing, anti-woke ideology. He has reinstated legions of accounts that were previously banned for violating Twitter's rules and has emboldened trolls, white-nationalist accounts, and January 6 defendants. Musk's own rhetoric has moved from trolling to dog whistling to outright conspiracy peddling, and it has intensified in recent months, culminating in his recent anti-Semitic remarks about George Soros. A stroll through Musk's replies on the site reveals the extent to which one of the richest men in the world spends his time replying to far-right influencers and nodding in approval to their racist memes.
But more concerning than one man's actions on a toy that he spent $44 billion to break are the actions undertaken by Twitter the company, under Musk's direction:
Earlier today, NBC Newsreported that Florida Governor Ron DeSantis is slated to kick off his 2024 presidential campaign in a Twitter Spaces event with Musk. Twitter, quite literally, is a launch pad for right-wing political leaders. Also today, The Daily Wire, the conservative-media juggernaut that is home to Ben Shapiro as well as the political commentators Matt Walsh and Michael Knowles, who are known for arguing against trans rights, announcedit would bring its entire slate of podcasts to Twitter starting next week. And earlier this month, the former Fox News host Tucker Carlson announced that he would take his prime-time-show format—a dog-whistling broadcast style known for its fearmongering and bigotry——to Musk's platform.
As Warzel points out, this slide to the right is nothing new in the world of online outlets, and it makes the question of Twitter's total implosion a matter of when, not if.
Twitter's remaining cultural stickiness persists because there hasn't quite been an alternative that's captured its feeling, its essence, its (dare I say) vibe in quite the same way. That may no longer be an excuse for refusing to jump ship.
I mostly don't want to because there are actually a few people that follow me that make it feel special that they would (in reality, it isn't), but in truth, I don't want to lose that connection by simply burning the account to the ground. But looking at it objectively, there are very few good reasons to remain loyal to a site that's fundamentally changed into something so ugly.