Seattle Times's High-Flying Boeing Coverage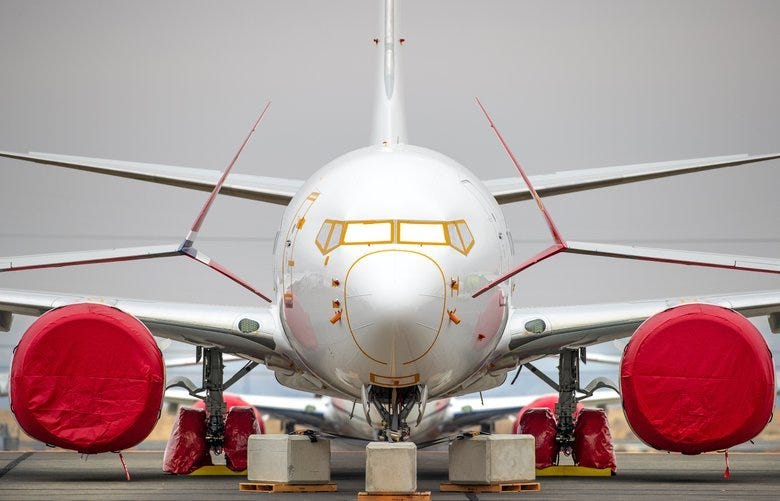 Continuing the highlighting and celebration of some of this year's Pulitzer Prize-winning journalism, we jump in the time machine to revisit the story that we couldn't stop talking about; it feels like 200 years ago but was, in fact, just over a year ago that multiple Boeing 737 MAX jets fell from the sky, killing hundreds.
The Seattle Times won its 11th Pulitzer Prize for its coverage of the crisis. According to the sleekly packaged digital collection of stories on its website, it was a "yearlong reporting effort that included more than 150 bylined stories examining the human toll, the local economic impact, the technical complexity of airplane engineering and the convoluted threads of air safety regulation."
What struck me when I revisited the first story in the series, which I highlight here, was the lede. It's hard to accurately convey "Oh, shit! moments" via the printed word, for what do they actually look like? Not all that different from a dull report about the financial markets or a book review: black letters on newsprint, or, more likely, black pixels making up black letters amidst white pixels on your screen, 2-D, flat, inanimate. But Dominic Gates's lede is a beautiful representation of what fireworks look like in written form; if you don't stop to truly think about the words, they'll wash right over you without much effect. Make no mistake – this lede is devastating. And it achieves such devastating effect straightforwardly, without razzmatazz or embellishments:
As Boeing hustled in 2015 to catch up to Airbus and certify its new 737 MAX, Federal Aviation Administration (FAA) managers pushed the agency's safety engineers to delegate safety assessments to Boeing itself, and to speedily approve the resulting analysis.
That's it; a single sentence. It's easy to see why a person could blow right past it without digesting the import of that one sentence, those 40 words. But look at it carefully; in 40 words, Gates gives you the entire story, the true nuts-and-bolts of it all, the guts. It's not just a story about a plane crash, but rather a story about a flawed system that led to fatal crashes and the motives that drove such shoddy oversight. From the get-go, the reader realizes that, at its core, this is a story about corporate greed and lax regulations.
I don't know if it exists, but I pray for a documentary treatment of this period in the Times's newsroom. Can you imagine it? Consider this line from the story:
Both Boeing and the FAA were informed of the specifics of this story and were asked for responses 11 days ago, before the second crash of a 737 MAX on March 10.
They'd been reporting on this story since shortly after the Lion Air Flight 610 crash in October 29, 2018. They'd reached out to Boeing and the FAA with their findings, seeking comment, and disaster strikes again in the form of a second crash. How wide were the reporters' eyes when they heard the news? What frantic energy shot through that newsroom? It's the sort of thing that makes All The President's Men some compulsively rewatchable 50 years later. There would have been adrenaline and furious activity just to cover the crash itself, but these journalists weren't simply doing crash coverage. Because of the previous crash months before, their story hit with the combined force of an investigative exposé and breaking news coverage of a plane crash. It's hard to remember back that far, but Boeing 737 MAX jets and the FAA led every news report for weeks, and these Seattle Times reporters got there first. And as Gates's tweet from Monday suggests, the story isn't finished; a final reckoning is still to come.
Read the story that started the coverage that led to the Seattle Times's 11th Pulitzer Prize here:
---
If you liked what you read, please sign up, follow me on Twitter (@CaryLiljohn06) and then forward to friends to help spread the word.