The Enduring Weirdness of Val Kilmer
Taffy Brodesser-Akner responded in the way only she could in rising to the challenge of profiling the enigma known as Val Kilmer: "I'm your huckleberry."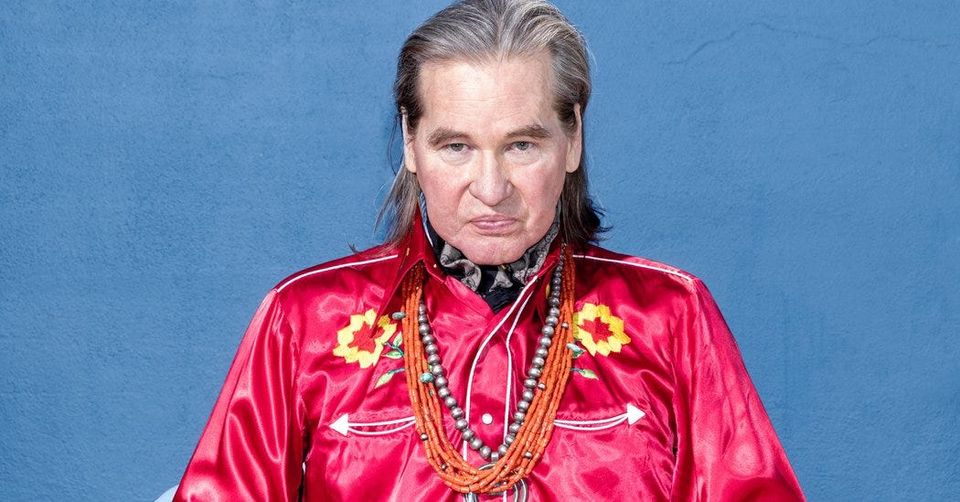 Taffy Brodesser-Akner is back at it again, delivering a pitch-perfect celebrity profile of Val Kilmer. In trying to think of how to categorize the story, I'm at somewhat of a loss. It's a non-coronavirus coronavirus story. Or maybe a coronavirus non-coronavirus story. I wholeheartedly recommend reading it as a break from the deluge of coronavirus news because it absolutely is that. The details of Kilmer's career, especially around the central thesis of the piece – what happened to Val Kilmer? – represent a thoughtful meditation on a quirky, weird but surprisingly deep life.
But where the profile sings is how Brodesser-Akner incorporates the ongoing coronavirus pandemic; this will, perhaps more than any other of her stellar celebrity profiles, become a testament to the time at which it was written, a time-capsule of a document that encapsulates so much more than the subject. Consider this passage as Kilmer wrestles with the possibility of the coronavirus shutting down various aspects of life:
"You don't think we will be going to Cannes?" Kilmer asked. "How about the Olympics? The Olympics has never been canceled except in time of world war." You can't cancel the world, right? Bad things happen, but you still need art.

And I thought: Right? Right! You still need art. You still need forward momentum. You still need to believe that all your effort wasn't for nothing, that we could — we will — survive a dark moment in history and that when that happens, we won't be left without the things that made those moments decipherable and meaningful and therefore tolerable.

The world outside had seemed to be getting so, so bad for so, so long, and this was the first whiff of overarching hope and positivity that I'd witnessed in I couldn't remember how many months or years now — so much so that I almost couldn't identify it when I saw it. The last glowing embers of hope coming from Val Kilmer? The movie hunk of my youth, who disappeared unceremoniously and now presented with an entirely different appearance and a bizarre accounting of where he'd been? But there was something familiar about it, like a faint knocking that came from inside me: It was the special kind of optimism that maybe only the faithful have, the enduring belief that some force will come along and save us from the centrifuge of despair we've found ourselves in. When is the last time you saw that up close?
In its own way, Brodesser-Akner's piece is that artwork she described. The bits of this story that are clearly non-coronavirus are a form of forward momentum and help us survive a dark moment, or at least make it a little more tolerable.
It reminds us of a time of non-essential journalism, of stories that we read not because we should or that we need them but because we simply want to for the enjoyment of it. That's Brodesser-Akner's gift. Kevin Nguyen recognized it as he recommended this her story in this week's Sunday Long Read newsletter:

This is a beautiful story that perfectly straddles the divide between essential coronavirus reporting and a break from such heavy stories. It both is and isn't. It's both and neither. Brodesser-Akner said something similar near the end of the profile:
By now I understood that the story I was telling about Val Kilmer, which I'd thought had been about a man's relentless faith and optimism, was really about reconciliation: the squaring of two opposing things into something we swear is true despite all evidence to the contrary. Your beauty can sentence you to misery; Val Kilmer uses a tracheostomy tube, but he can talk; his brother is dead but only to our senses. Mark Twain despised Mary Baker Eddy, until you can will him into a dream where he doesn't. God is good, and there are no ventilators. My beautiful friend has cancer, and the treatment exists, but it's unavailable to her right now.
Sit back and take in all the wonderful weirdness that is Val Kilmer here:
---
Extra Credit
Just in case you worry that Val Kilmer somehow got weird later in life, here's a great Esquire piece by Chuck Klosterman from 15 years ago that proves he's always been just…well, Val Kilmer.
---
If you liked what you read, please sign up, follow me on Twitter (@CaryLiljohn06) and then forward to friends to help spread the word.