The Five Deeps
Recent Pulitzer Prize-winner Ben Taub is back with stunning New Yorker piece about personal submarines and deep sea quests.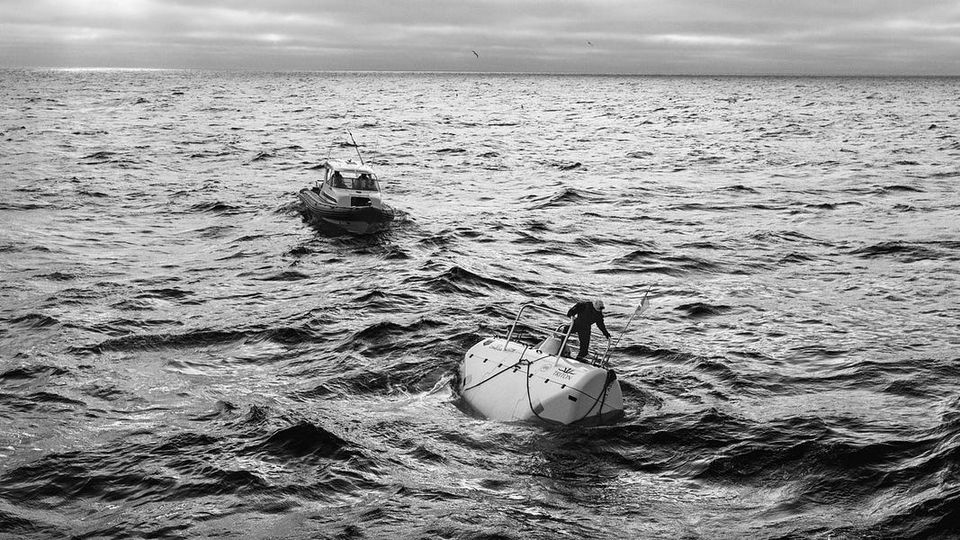 Want a long, engrossing read for the weekend? I've got just what you need, and it's another exploration of the oceans' depths.
Fresh off his Pulitzer Prize win, The New Yorker's Ben Taub has published a compulsively readable account of one man's pursuit to explore the deepest points in all five oceans.
Taub's writing is stunningly beautiful, as the introduction to this story shows; it makes you feel small, as if you were bobbing alone of the very waves it describes:
Sea level—perpetual flux. There is a micromillimetre on the surface of the ocean that moves between sea and sky and is simultaneously both and neither. Every known life-form exists in relation to this layer. Above it, the world of land, air, sunlight, and lungs. Below it, the world of water, depth, and pressure. The deeper you go, the darker, the more hostile, the less familiar, the less measured, the less known.
Passages like this are sprinkled throughout the piece, and they are mesmerizing, every last one. Fellow New Yorker staff writer Eric Lach summed it up pretty well with this tweet:
The remarkable thing about this piece is that for as interesting as the plot is (and let's be real – a globetrotting checklist of the deepest points on earth in each of our planet's oceans does a lot of heavy lifting there), the cast of characters is even better.
Taub describes them this way:
Vescovo's crew was an unlikely assemblage—"a proper band of thieves," as the expedition's chief scientist put it—with backgrounds in logistics, engineering, academia, and petty crime. Some on board had spent decades at sea; others were landlubbers. For more than a year, they faced challenges as timeless as bad weather and as novel as the equipment they had invented for the job. They discovered undersea mountain ranges, collected thousands of biological samples that revealed scores of new species, and burned through tens of thousands of gallons of fuel and alcohol.
Though the story is really a tale of a team effort, the ostensible main protagonist, Victor Vescovo, is described this way:
He grew up reading science fiction, and aspired to be an astronaut; he had the grades but not the eyesight. As an undergraduate, at Stanford, he learned to fly planes. Afterward, he went to M.I.T., for a master's degree in defense-and-arms-control studies, where he modelled decision-making and risk—interests that later converged in overlapping careers as a Reserve Naval Intelligence officer and a businessman. Vescovo was deployed as a targeting officer for the NATObombing of Kosovo, and, as a counterterrorism officer, he was involved in a hostage rescue in the Philippines. He learned Arabic and became rich through finance and consulting jobs, and, later, through a private-equity firm, Insight Equity, in the suburbs of Dallas, where he lives.

Vescovo started going on increasingly elaborate mountaineering expeditions, and by 2014 he had skied the last hundred kilometres to the North and South Poles and summited the highest peak on every continent. He had narrowly survived a rock slide near the top of Mt. Aconcagua, in the Argentinean Andes, and had come to embrace a philosophy that centered on calculated risk. Control what you can; be aware of what you cannot. Death, at some point, is a given—"You have to accept it," he said—and he reasoned that the gravest risk a person could take was to waste time on earth, to reach the end without having maximally lived. "This is the only way to fight against mortality," he said. "My social life was pretty nonexistent, but it just wasn't a priority. Life was too interesting." He grew his hair down to his shoulders, and touched up the color, even as his beard turned white. On weekends, he used his private jet to shuttle rescue dogs to prospective owners all over the U.S. At sea, according to members of his expedition team, he spent hours in his cabin alone, playing Call of Duty and eating microwaved macaroni and cheese.
Then there's Triton Submarines, the company that built his rig from scratch, and its president who is rumored to be the best submarine pilot in the world. There's the company's chief submarine designer who doesn't really care all that much for submarines and doesn't feel comfortable inside them. There's the expedition leader hired to coordinate the teams effort; the man has been to Antartica 128 times. Taub writes:
He is a trained medic, dive master, firefighter, aircraft pilot, and boat operator, a former New Zealand park ranger who has served as an adviser to the Norwegian Navy. He speaks three Neo-Melanesian languages, and can pilot a Zodiac boat standing up, in sixteen-foot waves. He is the subject of a "Modern Love" column, in the Times. ("My father warned me about guys like you," the author recalls telling him, before marrying him anyway.)
This perfect combination of story and characters led to Taub just blowing past what would otherwise be a pretty staggering revelation: The expedition leader, Rob McCallum, says he thinks he knows where Amelia Earhart's long-lost plane rests on the ocean floor. It's just a biographical detail, a final flourish in a long list of superlatives.
Michael Luo, another New Yorker editor, imagined the exchange between Taub and his editor after reading the draft in which the Earhart disclosure is made:
And Taub responds, good-naturedly, by posting the actual exchange with is editor:
The characters deliver great lines of dialogue, and they continue to amaze and surprise in their accomplishments. The story depicts all of the dives, and the results of each become preordained, expected, no big deal. And therein resides the story's, and the accomplishment's, charm.
I read the story in the physical copy of the magazine, but the interactive elements of the digital presentation are incredible; it addresses details to answer lingering questions like "How is this technologically possible?"
Don't waste another minute; read it here:
Thirty-six Thousand Feet Under the Sea | The New Yorker
---
If you liked what you read, please sign up, follow me on Twitter (@CaryLiljohn06) and then forward to friends to help spread the word.